EXCAVATOR WOOD SAWS
From mini-excavators to 30 tonners, we can provide an effective circular saw to suit.
Blade diameters range from 400mm up to 1850mm.
We generally recommend tungsten-tipped blades for wood cutting, as they maintain their sharpness longer, particular when cutting firewood which may have sand trapped in the wood.
Echidna excavator wood saws are based on our range of diamond rocksaws.This means that their construction is robust, with double bearing protection for the motor, and effective seals to prevent dirt and water entering the bearings.
Echidna woodsaws have automatic blade brake for safety. They can be converted to a rock or concrete cutting saw by replacing the blade with a suitable diamond blade.
To discuss the suitability of any rock saw model for wood cutting, please contact Echidna or one of our distributors.
Cut firewood - trim branches - clear brush
High speed saws for cutting timber
easy conversion for stump grinding
hold vertically for trimming branches
horizontally for cutting standing trees
use with optional hydraulic or manual rotation unit
also use for cutting paper rolls
fit multiple blades for cutting slabs
use tungsten or steel tipped woodsaw blades
convert to rock or concrete saw
Applications
firewood
tree trimming
clearing
onsite milling
hedge trimming
fence posts
harvesting trees such as Christmas trees
Accessories
stump grinder conversion
spacers for mulitple blades
debarking tool
convert to single direction rock and concrete saw
tilt and rotator heads for flexibility in cutting angle and position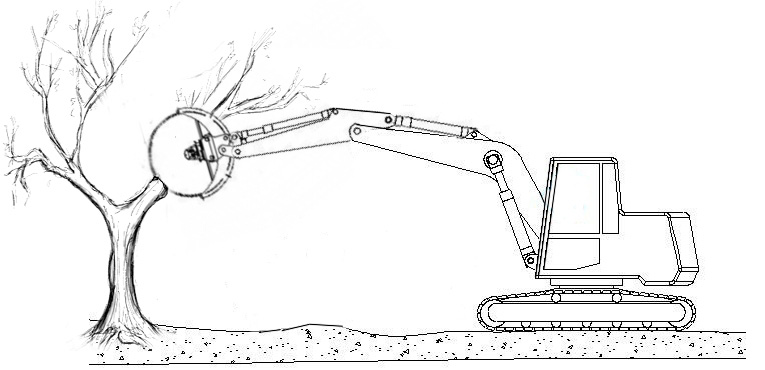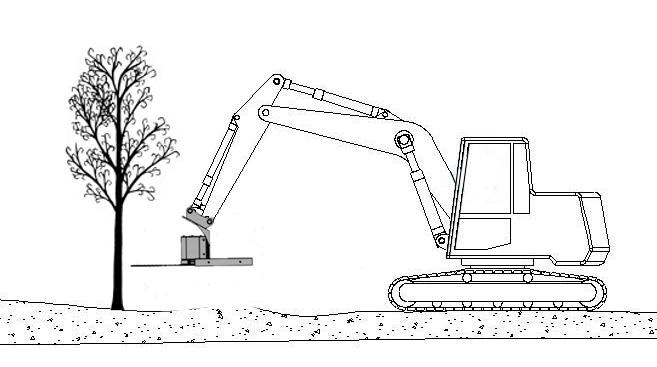 Specification
Refer to Diamond rocksaw specifications for full specifications of the saw drives.
Recommended Blades Diameters and Oil Flow Requirements
The following table gives the recommended oil flow required for good tip speed for wood cutting.
The maximum flow rating is a limitation of the saw hydraulics, and exceeding this can damage the motor.
As a very rough calculation, the hydraulic oil flow available to an excavator can be estimated at
10 x excavator weight in tonnes + 22 lpm. It is best to check the specifications of your excavator, or have the oil flow measured for best results.
The cutting depth loss due to the hub is 75mm for D1S and D2S and 120mm for D3S
*calculate cutting depth =(blade diameter/2)-cutting depth loss