ABOUT ECHIDNA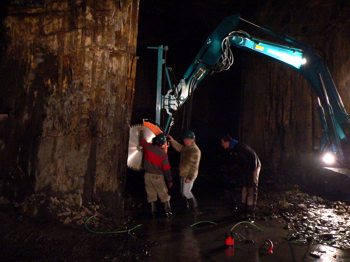 Echidna designs and builds a wide range of high quality earthmoving and mining attachments.
Our products are designed and built in Australia and/or Europe, using only high quality components to provide long and trouble free life.
Echidna is the leader in hydraulic rock saw design, being the first to conceive and develop the automatic brake and reversible rotation function.
We continue to lead the way with innovations that provide you with safe and cost effective solutions to your rock cutting requirements.
At Echidna, safety has a high priority.
Our machines are designed with safety features such as automatic blade braking, double swivelling shield and reversible rotation on our diamond rock saws
Our equipment comes supplied with a thorough user's manual for safe operation and maintenance of the machines. We also provide training on the correct use of the equipment as required.
The history of the Echidna group goes back to 1990, when it was first established to provide solutions in instrumentation and programming.
Over the following years it had grown to expand into process automation and robotics. Echidna Production Machinery Pty Ltd (EPM) was then set-up as a design house for large projects related to production machinery development, designing and building large and sophisticated systems for companies such as Holden, Qantas, Western Off Shore Mining and ZF.
Since the first degree of the company's founder, Dr Fischer, is in Mining Engineering, it has been only natural for the company to become active in the Mining/Earthmoving sector.
The company is fully Australian owned, its headquarters and main production base are in Australia, however, the demand for its product pushes it rapidly to expand to cater for other parts of the world. In late 2009 a daughter company Echidna Production Machiney CZ was set up in the Czech Republic and equipment destined fr the greater Europen market is now manufactured to appropriate European standards with CE certification.
Echidna machines are designed, manufactured and tested using state-of-the-art tools.
Our main strength is our ability to rapidly come up with a solution that fits your needs and budget. If your have a requirement not covered here, please do not hesitate to call us. It is likely that we will be able to provide a custom solution for you. The table below lists just a few of those who have benefited from our input before you.
Academica Sinica (China)
ADC (USA)
ANU
Architectural Framing systems
Australian Scientific Instruments
Austramac
AOFR

BHP - BlueScope Steel
Dana Spicer Axle
Favco Trucks
Ground Tec Equipment
Holden
JDS Uniphase (Canada)
Krupp AG (Germany)
MIT (USA)

Nortel Networks (Canada)
Oshkosh Trucks (USA)
Qantas
Sumitomo Heavy Industries (Japan)
Sunshine Heart
Woodside Offshore Mining
ZF (Germany)